When you sign up for a reseller account at Brixly, you will receive a welcome email including some details on how to get started. This document though serves as a more extensive insight into the earlier stages of your reseller plan.
Let's walk you through it!
Logging in to and Accessing WHM
Logging in with a Username / Password
You will receive your login username and password within your welcome email, which is sent to your email address once you sign up for a reseller plan.
You will also receive a login URL, called the server 'hostname'. This will be something
similar
to…
https://alfa.hostns.io:2087
Note here, that the hostname is 'unbranded', avoiding any mention of the Brixly name or brand. The address 'alfa.hostns.io' is the 'hostname' of the server, and the :2087 is the 'port' used to access the WHM interface.
This can be used to log in to your account, irrespective of whether your domain yet points to the server, which is ideal for testing. However, once you have pointed your domain to the server, you can log in directly using your own domain, such as…
https://yourdomain.com:2087
Again, the :2087 is specifying the 'port' of the WHM service, which will present you the login screen for WHM.
You will be presented with the WHM login screen, where you can then enter your username and password which was provided in the welcome email.
Once you are logged in, you will see the following screen…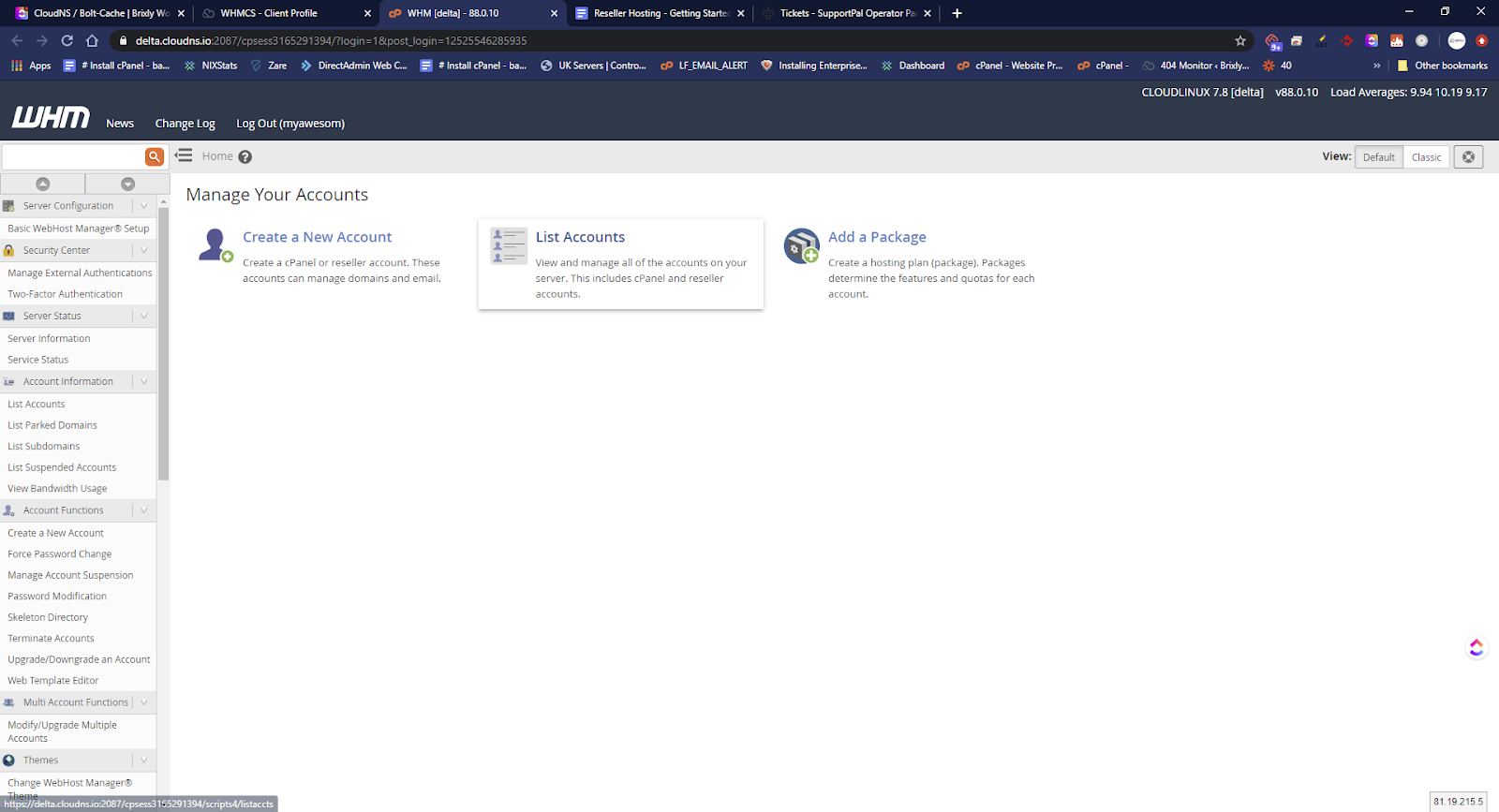 Logging in via our Client Area
Please note that you can also log in without using the username and password for your WHM, by logging in via our client area.
To do this, you can log in to our client area at
https://client.brixly.uk
, navigate to 'Services -> My Services', selecting the reseller account.
From here, you can click 'Login to WHM', which will also securely log you into your WebHost Manager.
WHM Overview

The WebHost Manager can seem a little daunting - the interface itself feels somewhat 'cluttered', although this overtime is improving. The functionality though you require is fairly intuitive, but we will explain further some of the core features here.
For the full documentation on WHM, please see the link below…
https://docs.cpanel.net/whm/
Please note, however, that you are using WHM as a 'reseller', which has restricted access to some of the features and functionality mentioned in the official documentation. Some tools and features are available to 'root', or administrative users only and won't appear in your own instance of WHM.
You will see WHM has a 'central' dashboard, with a summarised set of options...

You will also see there is the main menu on the left-hand side which gives you access to all of the functionality available to you within the WHM platform/interface.
It is worth familiarizing yourself with the features listed here to get a feel for how WHM works.
We will cover some of the basic WHM terminologies here also.
Terminology
Packages
Packages are a set of limited benefits for a hosting user. Let's say you have a client who wants to host his/her website on your server. Through the WHM you can create an account for him/her - the package defines the 'limits' or constraints of the account.
An example of a package can be similar to the following…
Basic Package:
1GB Disk Space
10GB Bandwidth
1 Email Account
1 FTP User
Unlimited Package:
Unlimited Disk Space
Unlimited Bandwidth
Unlimited Email Accounts
Unlimited FTP Users
Feature Lists
Feature Lists are a list of specific features which you wish to make available to your clients. A 'default' feature list is created automatically when you sign up for a reseller account, which enables all of the 'default' functionality within cPanel.
Feature lists however, give you the capability to restrict access to certain tools or features within cPanel.
An example of this may be…
Feature List: Hosting Only
Then, within this feature list, you could disable all mail-related functionality and features, preventing your clients from hosting email on the account.
cPanel Accounts (or just 'Accounts')
cPanel accounts are basically the hosting accounts/space for you or your clients, each of which has their own independent login credentials and interface.
A cPanel account can contain multiple domains, called 'Addon' or 'Alias' domains.
For security reasons, each individual client should be provided with their own cPanel account.
It is not recommended practice to host multiple clients sites under a single cPanel instance.
Quota
Quota relates to 'Disk Space', and is usually referenced in MB.
1000MB is 1GB, so if you wanted to allocate a 10GB limit on storage for a client, you would set their 'Package' to have a Quota limit of 10,000MB
Bandwidth
Bandwidth is the amount of 'throughput' their website traffic has generated. For example, if a website is 1MB in size, and receives 100x visitors in a day, then their usage would approximately equate to 100MB (approximately is used intentionally here, as its calculation is more complex than the above, but gives you an idea of the concept).
Zone
A 'Zone' is a 'DNS Zone', when referenced in WHM. A Zone contains the mapping of DNS, to translate IP address to URL.
The 'Zone File' is stored as a .db file, and is parsed by name server software called 'BIND' (or, in our case, PowerDNS).
The WHM interface and cPanel interfaces simplify the process of managing these files by providing a graphical user interface for editing those DNS zone files directly.
Nameserver Configuration
The first step when accessing WHM should be to ensure that you have your nameservers configured correctly, which ensures the values in your domain's DNS zones are correct when creating new accounts.
To do this, go to…
WHM -> Basic WebHost Manager Setup
You will then be presented with the following screen…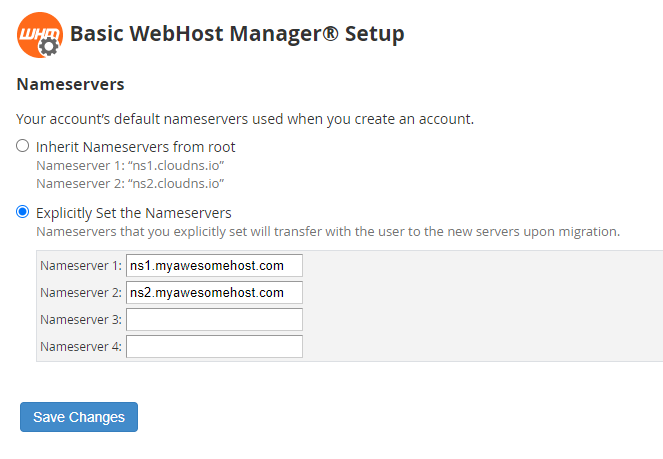 At this stage, you need to make a decision as to how you would like to host the domains of the accounts within your reseller service.
The above interface sets what 'NS' values will be set in the DNS Zone of your domains, and therefore should match the nameservers being used at the domain registrar for the domains.
By default, you will see we select the 'Explicitly Set the Nameservers' option, and have already created a set of Nameservers for your domain. This option is pre-selected because the most common path our resellers choose is to create custom nameservers for their reseller hosting service.
It's important to point out, however, that setting up custom nameservers also requires some changes at the domain registrar, so requires further action on your part. A guide on creating custom nameservers can be found here…
https://support.brixly.uk/en/knowledgebase/article/how-do-i-create-custom-nameservers
If you wish to use our 'unbranded' nameservers instead, simply click the 'Inherit Nameservers from root', which will allow you to use our nameservers instead of going through the process of creating your own custom nameservers.
Creating your first Package
To create your first package, navigate to the following…
WHM -> Add a Package
From here, you will be given the option to enter a package name, as well as a number of options allowing you to define the 'limits' of this package.
If you are on our Reseller Pro 50 plan or higher, then you will have the option of 'Unlimited' against the quota and bandwidth.
If you are on our Reseller Entry plan, you will be required to enter a 'limit' into both the 'Quota' and the 'Bandwidth' fields - this is a technical requirement of the cPanel software, however, you can set these limits to a 'high value' such as 99999999.
Package Options / Limits
The options within that list are fairly self-explanatory, so we won't go through each individual option. However, closer to the bottom you will see the following additional options...
Shell Access
When enabled, the cPanel accounts using this package will be granted secure, 'caged' SSH / Shell access to their account. This is safe to enable due to the way we protect each account through a facility called 'CageFS'. However, it's recommended for advanced users only.
Feature List
The Feature List, as per the terminology definition mentioned earlier in this guide allows you to restrict access to certain features within the cPanel interface. A default list is created automatically, so if you are happy with your clients having access to all of the recommended tools, then you can leave this set to default.
If you wish to create a custom Feature List for the package, you can do so by going to WHM -> Feature Manager and creating a new list.
Once you have selected which features you wish to have available to your clients, the new Feature List will be available when creating a Package.
LVE Settings
It is recommended to leave this option unchecked. Using this option can cause significant performance issues with an account or domain.
MagicSPAM Protection
When MagicSpam Spam Protection is enabled, the cPanel interface for accounts assigned this package will now have a new application button 'MagicSpam' available in their interface. This will allow them to selectively choose additional MagicSpam Spam settings to apply to individual domains for added protection, manage their own exemption lists, and also search the logs for mail activity specific to their domains.
Without this option enabled, please note that SPAM protection will still be in place. The difference is, you won't be providing your client with the ability to 'refine' their SPAM control settings via the MagicSPAM plugin.
Save the Package
Once you have finished creating your package, click 'Add' to complete the step!
Editing the Package
Once you have created your packages, you will be able to edit your existing packages by going to
WHM -> Edit a Package
You can also delete the package from WHM -> Delete a Package if a package is no longer required or is obsolete.
Listing and Managing cPanel Accounts
To list your cPanel accounts, you can navigate to
WHM -> List Accounts
From here, the first thing you will notice is that a cPanel account exists for the main domain name of your reseller account.
The 'Primary' cPanel Account
The main cPanel account is mandatory, and cannot be removed. The reason for this is that the WHM access is essentially a 'cPanel Account', with escalated privileges.
The domain listed here also doesn't have to correlate directly with your hosting company or brand so don't worry if this account listed is incorrect.
The interface
You will see the fields available in this interface, which are as follows…
Domain
The 'main' domain name of the cPanel account
cPanel
The orange 'cP' logo is a 'one-click' link to access the cPanel account directly
IP Address
This is the IP address of the cPanel account. If you are using external DNS, such as Cloudflare you would use the iP address mentioned in this field for DNS records.
Username
This is the username of the cPanel account, which would be used to login to the cPanel account directly
Contact Email
This is the email address which would be used for notifications and alerts within the cPanel account
Setup Date
The date the cPanel account was created
Partition
This can be ignored, however, the partition is the 'location' of where the files belonging to the account are on the server
Quota
The allocated amount of disk space to the account
Disk Used
This is the amount of disk space being used by the account. Please note that changes to this field are not updated immediately, and can take several hours to update.
Package
This is the 'Package' being used.
Creating your first cPanel Account
To get started, navigate to
WHM -> Create a New Account
Account Limits
Within this section of the 'Create an Account' screen, you will see the number of accounts remaining in your reseller plan with us. If you are nearing your limit, please contact our sales team to discuss an upgrade.
If you see 1/50, the interface is telling you that you have used '1' of a limit of '50' accounts, so you therefore have 49 remaining.
Domain Information
Within this section, you will need to enter the 'main' domain of the cPanel account you wish to create, a username, password and email address.
Please ensure you make a note of the entered username / password, as those details can then be provided to your clients directly so that they can access the cPanel account, without granting them access to your WHM (do not share access to your WHM with others, especially clients!)
Our platform requires a high strength of the password, to prevent hacking or malicious attempts to access the account.
Package
Select the 'Package' you wish to use for this cPanel account, as created in the previous steps.
You must create a package, before attempting to create a cPanel account.
Settings
CGI Access - This isn't often used, as CGI is a dying technology. Feel free to leave it enabled, however, or disable it if preferred.
Locale - This option allows you to select which language the clients cPanel should be set to.
Enable Apache SpamAssassin - SpamAssassin is a fantastic tool that works in line with MagicSPAM, to improve the accuracy of your inbound SPAM filtering. We recommend this remains enabled.
Enable 'SPAM Box' - When this option is enabled, messages flagged as 'SPAM', will be routed to a separate folder within your mailbox called 'SPAM' or 'Junk'. Disabling this option ensures the SPAM messages show in your main inbox, but are flagged in the subject line as 'SPAM'.
Mail Routing Settings
It's important that this flag is set correctly, to ensure mail delivery works as expected.
The simplest way to know which option to select is based on whether or not the cPanel account will be used for email, or whether the client will use external mail services instead.
If they intend on using the cPanel server for mail, then select 'Local Mail Exchanger'. If they intend to use the cPanel account for their website, but their email accounts will be hosted externally on something similar to Google Mail, or Office 365 then set this option to 'Remote Mail Exchanger'
DNS Settings
Enable DKIM on this account - it is recommended to leave this option enabled.
Enable SPF on this account - it is recommended to leave this option enabled.
Use the nameservers specified at the Domains Registrar - checking this option will check the registrar set nameservers for the domain, and will set the NS values to match within the DNS zone. It's typical that this option remains unselected, with the nameservers being confirmed to match those set in the WHM -> Basic WebHost Manager Setup screen discussed earlier.
Click create!