Congratulations! You have just signed up to our industry-leading 'reseller hosting' platform, powered, built and backed by some of the industries most innovative and enthusiastic experts.
Reseller Hosting is at the absolute core of everything we do here at Brixly. Our focus for years has been to offer a truly outstanding solution for your clients, allowing us to build a platform you are truly proud to call your own.
Our reseller solutions have been designed from the ground up to be the perfect extension to any existing business, design agency, web development or even as a standalone business.
Where do I start?

This guide has been written to help you get the most out of your new reseller hosting account here at Brixly. Rebrand our hosting powerhouse and start selling industry-leading web hosting to your clients without the complexity or expense of running your own hardware / servers.
With Brixly, we also offer you the unique ability to sell a wide range of services beyond the capability of the reseller platform itself. Start selling unique, innovative products to your clients opening more opportunities than ever before - sell VPS Servers, Dedicated Servers, Domain Names and our exclusive 'Elastic Cloud' product range.
We take fantastic care of your hardware, the platform and network whilst you focus on your business, sales and marketing.
Welcome to your Client Portal!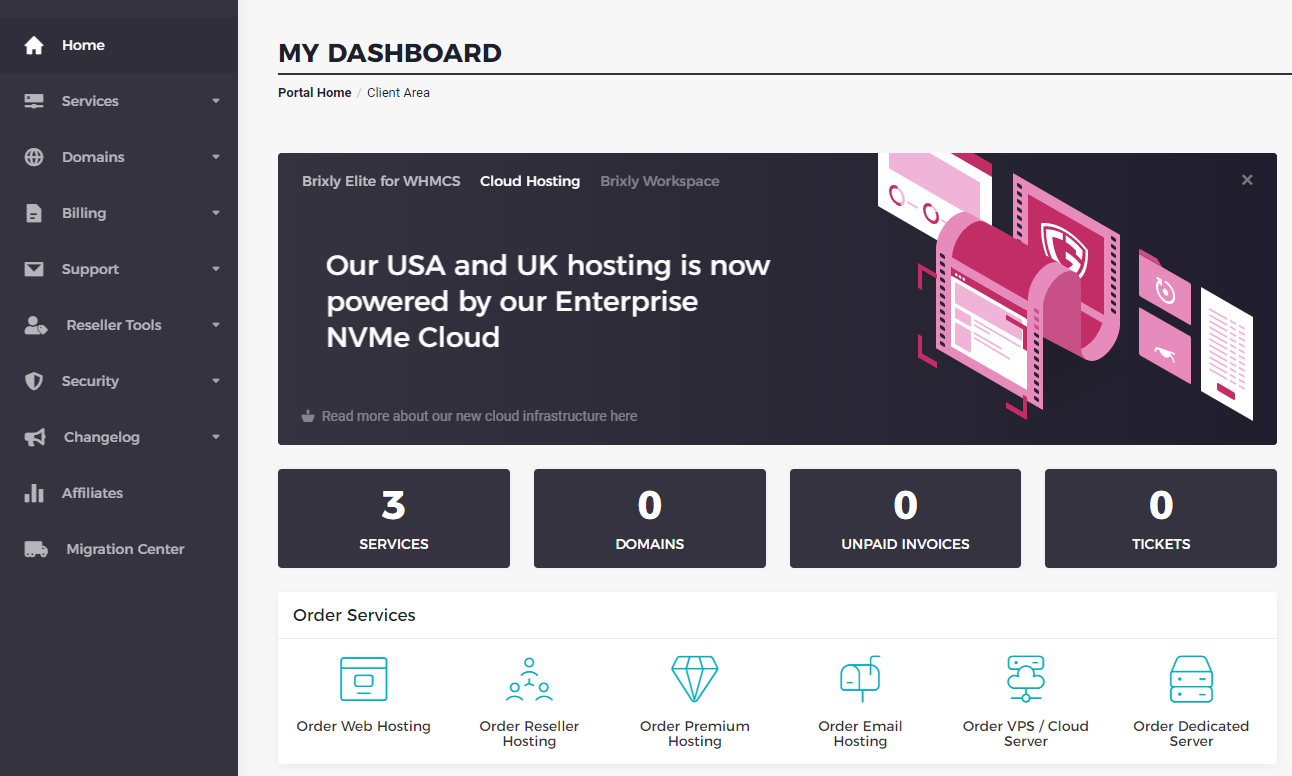 Your Client dashboard is the central management tool for everything Brixly. From this interface, you are able to manage your account, services, domains, and security. From here, you can also view and pay your invoices, raise tickets to our excellent technical support and sales teams, and manage the accounts under your reseller services. We have added and are constantly working on new features to enhance your reseller workflow by developing tools such as the Migration Center to easily and smoothly move all of your accounts and domains from your previous web hosting provider for a seamless experience to kickstart your journey with us.
The Reseller Tools interface will house a Central Manager with quick access to your cPanel or DirectAdmin account, Domain purchases, Addons and a Easy to access WordPress Manager, allowing you to navigate to what is important efficiently and effectively. 
We have also implemented security tools directly within your client area such as a Malware and Firewall Scanner, to provide you with an easy to access and speedy interface to keep the accounts under your reseller clear from malicious activity.