The first main confusion when clients start out with reseller hosting is the difference between these three/four 'products', each of which is relevant when selling hosting packages to your clients.
Let's break down first of all, what these are…

WHM (WebHost Manager)
WebHost Manager, or its more commonly known abbreviation 'WHM' forms part of the cPanel and WHM product. They are both essentially part of the same software, however, WHM and cPanel serve a different purpose.
WHM is the 'reseller interface', which allows you to have 'centralised' access to you and your clients cPanel accounts.
WHM is the interface you have access to exclusively as a reseller, which gives you access to manage the following…
Create 'Packages' for your clients
Create 'cPanel Accounts' for your clients
List and login to your clients 'cPanel Accounts'
Using WHM, you also have access to more advanced features such as…
Suspending and 'Terminating' cPanel Accounts
Centralised DNS Management
cPanel 'Branding' Controls, allowing you to white-label your clients 'cPanel Accounts'
WHM has an overwhelming list of features and functionality, but in all honesty, the majority of the interfaces and screens provided won't be required. The above features, such as the creation of packages and accounts, are pretty simple.
In short, WHM, or 'WebHost Manager' is your 'reseller interface', giving you the ability to control, create and manage hosting accounts and packages for your clients.
cPanel
Without a doubt the industry-standard control panel, cPanel provides a clean, intuitive interface allowing you and your clients to manage their hosting accounts, email addresses, FTP access and more from a single pane of glass.
cPanel has been designed to be intuitive, yet is feature-rich giving your clients access to incredibly powerful tools and features that simplify the process of managing their hosting space.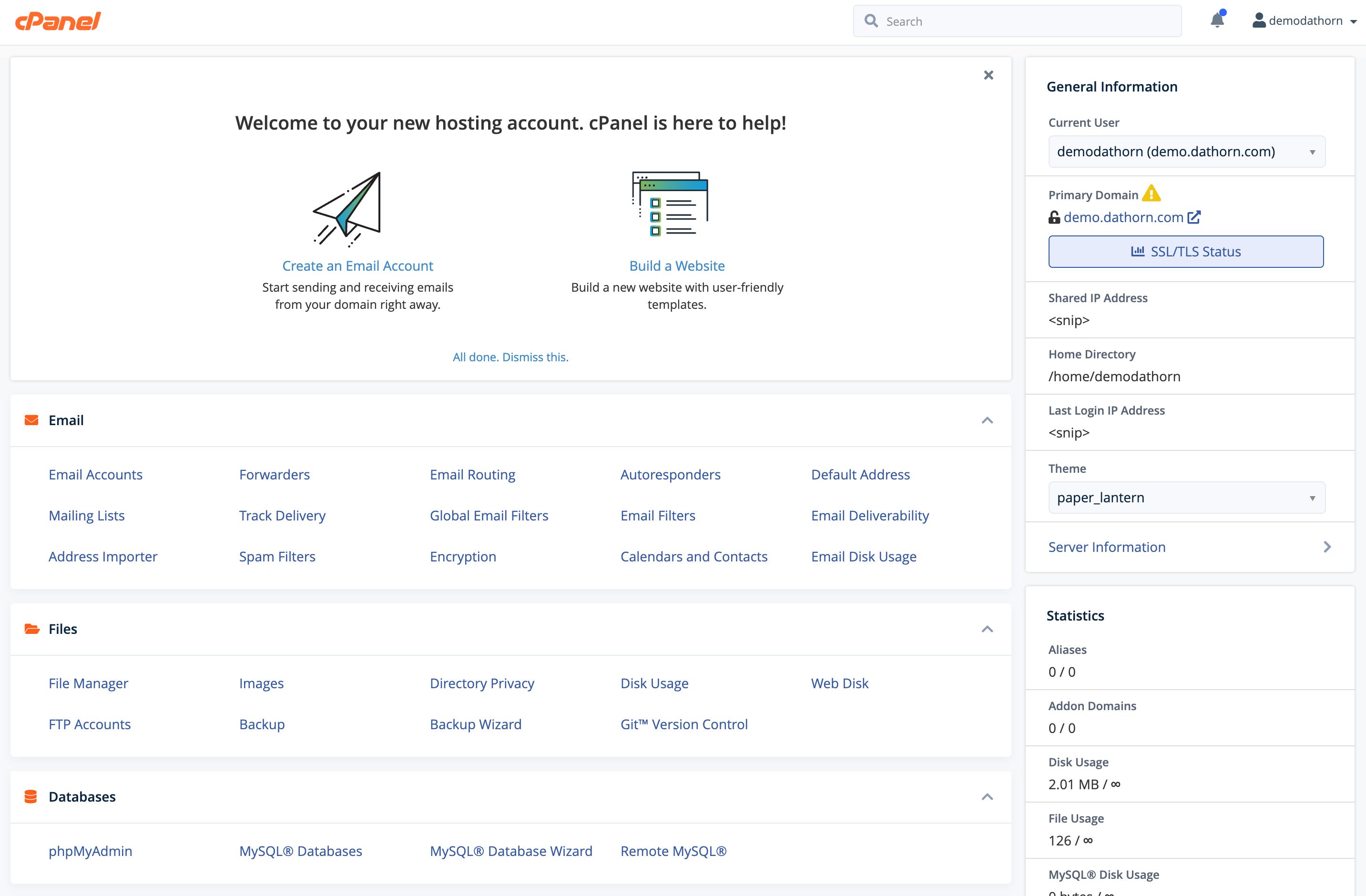 In the centre area, you can find a number of different links to manage various parts of the hosting account. And on the right-hand sidebar, you can find basic information about your server and account such as disk usage, the accounts IP address and more.
With cPanel, you and your clients can manage the following…
File Management
FTP Access
Backups and Restores
Database / MySQL Management
Domain Management (domains tied to the cPanel account)
Caching, such as Bolt-Cache
Email Address Management and Creation
Webmail Access
SPAM Protection (enabled by default)
Email Forwarders, Shared Calendars and Auto Responders
Website Statistics, such as AWStats
Resource Usages such as RAM and CPU Usage
SSH Access
SSL Certificate Management (oh, SSL certificates are free by the way!)
Optional 2-Factor Authentication
Cloudflare Integration and Simplified Setup
One-Click Installations (powered by Softaculous)
Website Builder (powered by SitePro)
Cron Job Management
Essentially, cPanel is the powerhouse you are offering your clients. The cPanel interface is essentially the product that allows your clients to manage their own hosting account with an outstanding level of ease.
cPanel. In comparison with some custom-built solutions is incredibly well documented online and has over 20 years of development history. It's an impeccably robust platform for you and your clients to host websites.
DirectAdmin
Instead of using cPanel, some clients may prefer to use DirectAdmin. DirectAdmin is a 'direct' alternative to the cPanel software interface. It has a range of extremely similar (if not the same) feature set as cPanel offers. DirectAdmin boasts a extremely user friendly interface, and well structured tools featuring ease of use and simplistic navigation. Like cPanel, it offers extremely powerful tools and is a great way to manage a clients hosting space.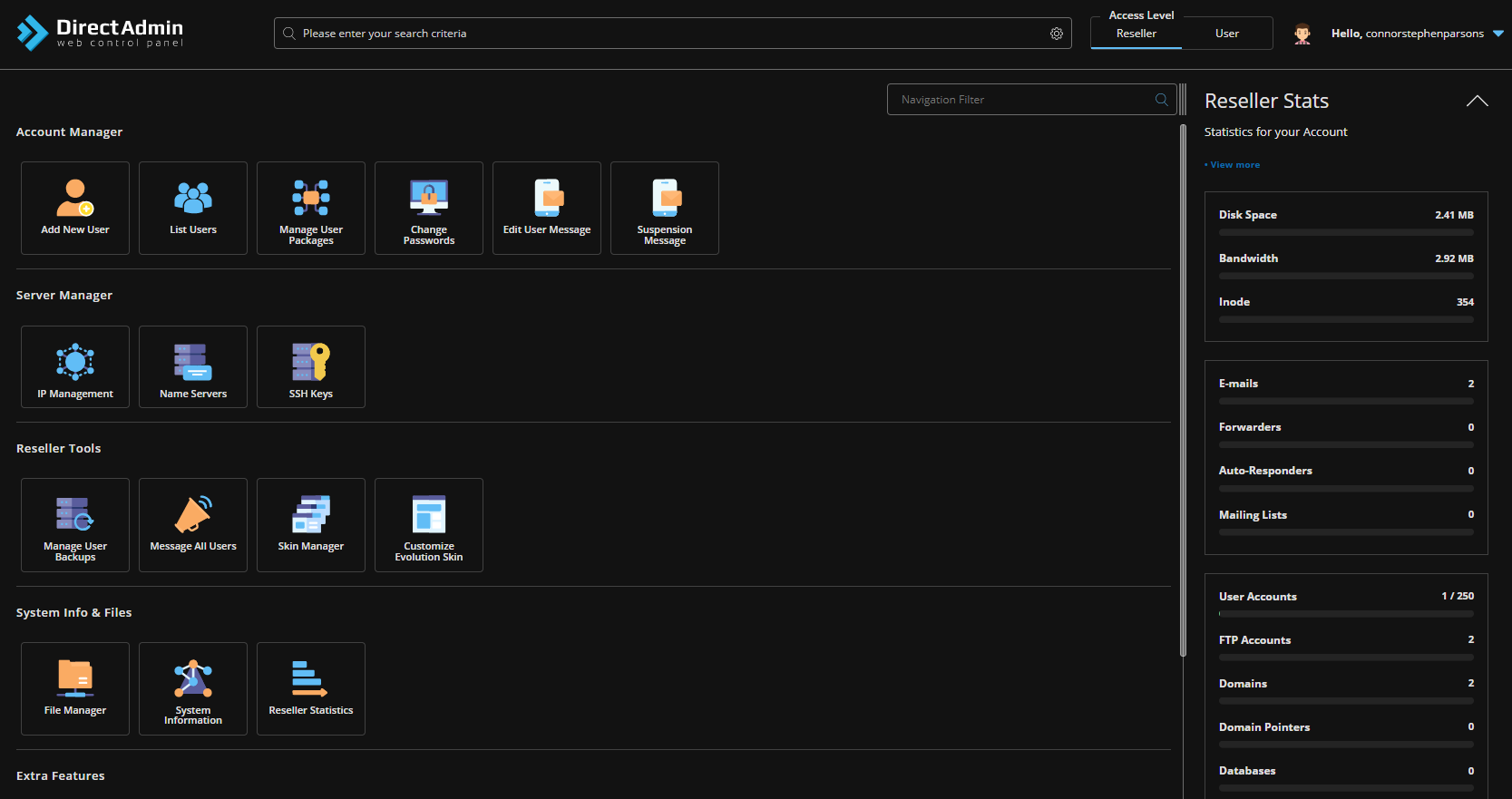 As DirectAdmin does not come with WHM, it takes an approach of hosting two environments - 'Reseller' and 'User'. These two environments essentially provides you with the ability and the tools to manage the users under your Reseller Package, whilst have a separate interface specifically designed towards a user perspective, to control their own account, domains, files etc.
Within DirectAdmin, as a Reseller, you can utilize many of the tools which cPanel offer, users can access (the list below) and also the following:
Account Creation, Listing and Modification
User Package configuration and management
Reseller Statistics
Message All Users
Import/Manage Skins
IP Assignment
System/Services Information 
Name Server Personalisation
Within DirectAdmin, your users can utilize many tools which cPanel offer and also the following:
Email Administration
FTP Management 
DNS Menu
Statistics Menu
Subdomains Menu 
File Manager
MySQL Databases
Site Backups
Error Pages
Directory Password Protection
PHP Selector
SSL Certificates
Server Information
Pearl Modules
Cron Jobs
Apache Config, 
WordPress Manager
WHMCS
WHMCS is often confused with WHM (WebHost Manager), however, it's actually not part of the same product and is developed and maintained by a different company.
Ironically, however, the WHMCS 'name' derived from 'Web Host Manager Complete Solution', so you can see there is some relation.
Basically, WHMCS has been designed as a solution 'for' WHM and cPanel, allowing reseller hosting providers (yes, that's you!) the ability to 'automate' much of the workflow required when running a hosting business, such as billing, invoicing, support and more. As WHM and cPanel don't come bundled with billing capabilities, WHMCS is the ideal solution if you want to automate your hosting business.
WHMCS is equally a 'two part' product featuring both a 'client area' for you and your clients (much like the client area you login to with us!) and an 'administrative area'.
The 'client area' aspect of WHMCS is designed to give your clients the ability to 'self-service' their hosting and to improve the relationship with you as a hosting provider.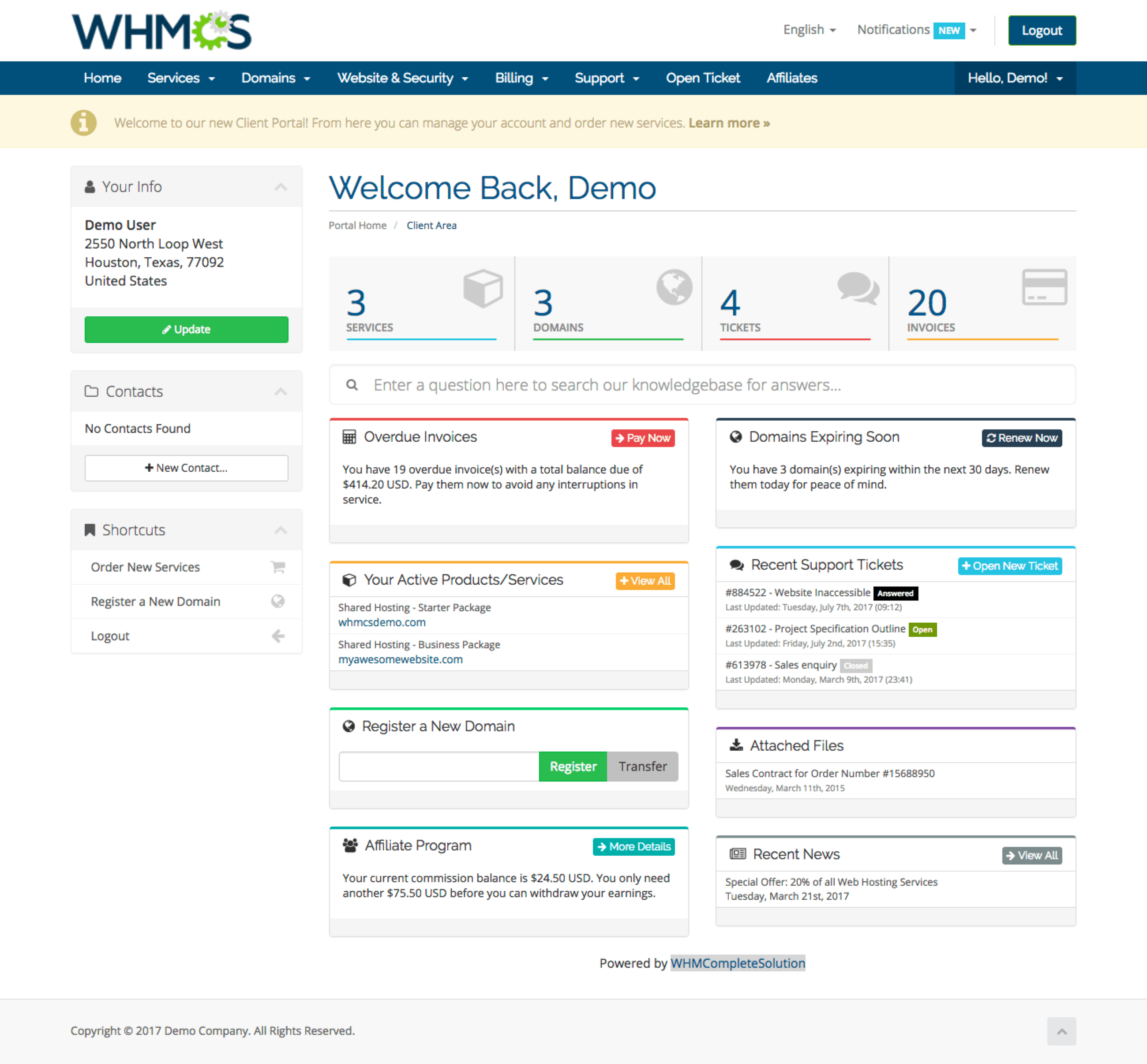 As you can see from the above, WHMCS gives your clients a fully brandable interface to manage not only their hosting account but their relationship with you as a provider.
WHMCS is incredibly feature-rich, but to give you some idea, your clients can manage…
Raise and Reply to 'Support Tickets'
Check 'Knowledgebase Articles'
Pay for and view their Invoices
Order products with an intuitive checkout process
WHMCS also has an 'administrative' interface, which allows you as a hosting provider the ability to 'manage' your hosting business.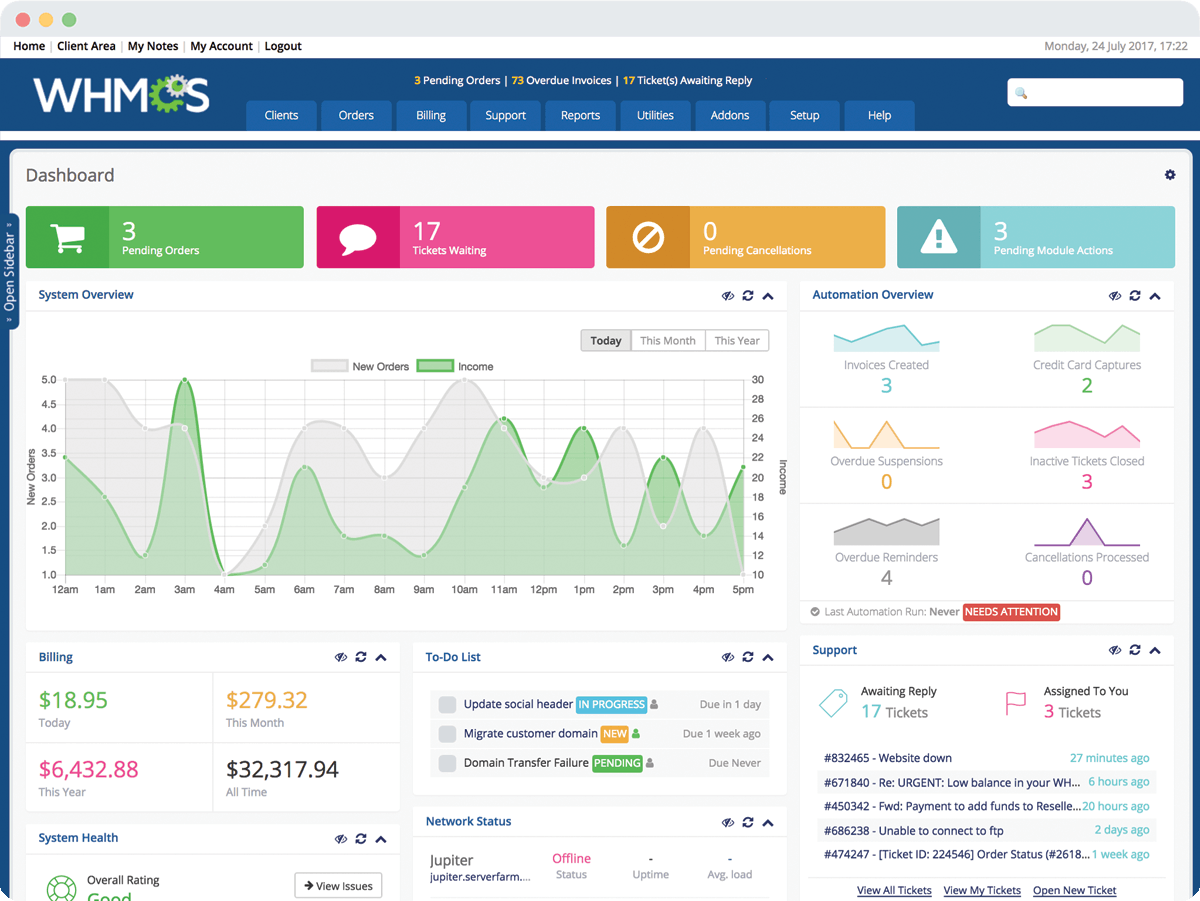 WHMCS gives you centralised access to manage and grow your hosting business with full access to…
Support Ticket Management
Order Processing and Management
Billing and Invoice Management
Payment Gateway Integration
Domain Registration Automation
Advanced Reporting
The administrative side of WHMCS has been designed to include all of the tools required to automate and grow a hosting business.
Note: WHMCS is not mandatory and is completely optional. However, we have built a number of services that are exclusive to the WHMCS product, such as our Domain Reseller platform and our 'Brixly Elite' module which allows you to sell VPS, Elastic Cloud and more.
So, how does it all tie together?
WHM and cPanel provide the interfaces to access and manage the website hosting itself. WHM and cPanel are of course included with all 'Reseller Hosting' plans as it forms part of the same package - WHMCS on the other hand is an optional solution that you can purchase to add a layer of 'automation' to your reseller hosting business.
We offer heavily discounted licences as one of the UK's leading WHMCS distributors/partners, those discounts of which are available exclusively to you.
We have also
simplified the installation process of WHMCS
, as well as a number of other modules and facilities to help grow your business.